With room to dance, the historic Ballroom accommodates up to 120 guests for a plated event and 110 for a seated buffet event. With an open concept seating arrangement and buffet service the Ballroom will accommodate a maximum of 140 people, including hosts and hired staff.
The Victorian Room offers an intimate setting perfect for small parties, a ceremony, cocktail hour, classes, or simply a quiet spot for chatting and relaxing when you need a rest from activities in the Ballroom. As a single room it accommodates up to 40 guests seated for a luncheon or dinner.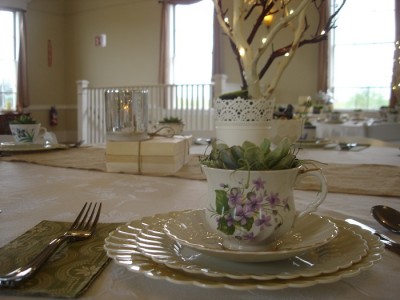 Q: What is included in the reservation fee?
The reservation includes the sole use of the functions rooms. An event supervisor is onsite throughout your function to assist with vendor arrivals, parking direction and greeting guests. A staff member will work with you to design a floor plan and coordinate vendor deliveries. Tables and chairs are included.
Q: What is the time frame for my event?
Our rentals begin with a six or seven hour time block. The party decorating and clean up take place within your booked time. Additional hours are available to purchase. Prior to a Saturday event, Friday afternoon hours may be available for deliveries and decorating. Contact us for details.
Q: Is the building handicap accessible?
All function rooms are accessible by elevator. Three of our five bathrooms are handicap accessible.
Q: Can I have my ceremony here?
A ceremony can be held in either the Victorian Room or the Ballroom.
Q: Do you have vendors to recommend?
We have several vendors we are happy to recommend. You're welcome to use any caterer, DJ, band, or event service company you wish. Catering and special event service companies offering onsite services must provide a certificate of insurance for general liability coverage.
Q: Can I have a bar?
If you wish to serve alcohol we will provide the name of our preferred bartender to hire. All alcohol must be corked, opened and served only by the bartending service. Bar services must provide a certificate of insurance for liquor and general liability coverage.
Q: How do I get a certificate of insurance from a vendor?
Once you've selected your vendors, simply provide us with the contact information and we will assist in obtaining the necessary certificates.
Q: Can I have a cash bar?
Yes. The Town of Acton require a $25 "one-day permit to sell alcohol" for all cash bars. Applications must be submitted to the town in advance of your event.
Q: Can I decorate?
Yes. We ask that you have an Exchange Hall staff member review the plan for decorations in advance. Tape, tacks or other adhesives are not allowed on any surface, including the floors.
Q: Can I bring my own food?
Yes. You're welcome to bring your favorite dishes.
Q: Are tables and chairs included?
We provide 5ft round tables (tables seat 8-10), white "wedding" chairs, 5ft and 6ft buffet tables, and 4ft accessory tables.
Q: Are the rooms air-conditioned?
During the summer months the function rooms are air-conditioned.
Q: Do you have a kitchen?
We provide a prep-kitchen/catering facility for you and your vendor needs.
Q: Is parking available?
There is plenty of parking in the South Acton Village. Exchange Hall reserves the on-site parking spaces for handicap accessibility, hosts, vendors, and special guests. Across the street we have access to two parking lots, which provide plenty of parking for Saturday, Sunday and holiday events. During the week we share these off-site parking lots with commuters. The lots are open around 7:15PM, Monday-Friday. We recommend Monday-Friday events have their guests arrive around 7:30PM.
Q: Can I rent the rooms for classes or meetings?
Our rooms are available to rent for a one-time use or repeating events. This rental option is an excellent opportunity for existing organizations to meet on a regular or periodic basis. A minimum two-hour rental is required. Contact us for details.