"When dancing couples moved together there, the floor rose and fell like ocean waves."
-1930s Quote from Yankee Magazine describing the spring dance floor in the Ballroom at Exchange Hall.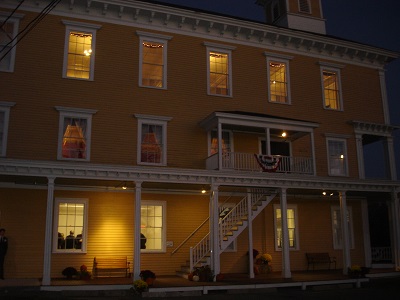 Average rating:
91 reviews
Jun 1, 2017
Los Angeles, CA
I recently held an event at Exchange Hall--a memorial service for a family member who passed. My family and I were so happy with our choice of Exchange Hall for this event; it was a lovely day sharing memories in a beautiful old space. Working on a very short timeline with Peggy, we were able to make informed decisions and get help with many things that we might have otherwise missed. I'm struck by the calm demeanor and graciousness of Peggy, Glen, and their staff. It was a very difficult time and yet we all felt very well looked after.
May 14, 2017
Thank you so much for helping us to put on a wonderful event last weekend. Our Bar Mitzvah was beautiful and meaningful, and we heard so many compliments about the venue. We so appreciate all of your advice (and patience) in helping us pull off such a very special day. I imagine we'll be getting in touch over the next year to book a date for Sarah's Bat Mitzvah in 2019!
May 9, 2017
Exchange Hall was the perfect place for our recent birthday celebration! The space is beautiful and the owners were incredibly organized and helpful.
May 2, 2017
Recently, we had our bat mitzvah party at Exchange Hall. The venue is so very beautiful and perfectly restored; and you can tell is a labor of love for Peggy and Glenn. Peggy was *immeasurably* helpful (as I am not a planner, was stressed & was a little late to the table.) The vendors she suggested fr the caterer (Sarah - what a *gem*)/bar/liquor suppliers/ice cream bar were wonderful. I'd re-book in a heart beat. Cannot go wrong!!!
Mar 28, 2017
Acton
We had our daughter's Bat Mitzvah party at Exchange Hall, and it was FABULOUS! We used the downstairs room for the adults, while the kids had a DJ and big space for dancing upstairs (we came together for a candle lighting ceremony and dessert later in the evening). We love the history of exchange hall. It's so beautiful, and great for dancing. Peggy is an unofficial party planner. She's very organized, and followed up with us about all the details as we prepared for the big day. Thank you for the memories.
Dec 14, 2016
Portsmouth, NH
My now husband and I had our reception at Exchange Hall on 11/12/16 and we couldn't be happier for choosing this venue! From the rich history of the building itself (which has been preserved beautifully) to very knowledgeable owners ( Peggy and Glenn) who made our wedding reception planning a breeze. We would highly recommend this venue for any event!

Peggy was very accommodating and extremely helpful during our planning and organized our vendors so we didn't have to. And if that's not enough both her and her husband Glenn even helped us decorate as well as clean up after the wedding was over! Who does that?!

We still hear praises from our weddings guests about how gorgeous Exchange Hall is and how much they enjoyed the atmosphere. Look no further, Exchange Hall is not only gorgeous but is run by very talented owners! Bravo!
Nov 15, 2016
Acton, Ma.
We held a memorial gathering for my mother at Exchange Hall, and it was a the perfect place for it. Such a gracious, charming room. Peggy and Glen were very helpful with all of the details. I was worried about the parking situation, but there is plenty of parking for those who need to park close, and staff were there to facilitate the arrival of the guests. Everything went very smoothly. I highly recommend Exchange Hall.
Oct 4, 2016
Fitchburg, MA
Peggy and Glenn,The hall is a beautiful building and I'm so glad my husband and I chose it for our wedding! You both are a huge part of why we chose to have our wedding there, as you were both so helpful and accommodating, our wedding wouldn't have gone as well as it did without your help!Thank you!Jayson and Ana
Jul 12, 2016
Acton
Peg and Glen,Thank you for a wonderful experience. Your involvement in planning our event was invaluable and beyond what we could have hoped for. Everyone had a great time at the event.
Mar 30, 2016
Manhattan, NY
Glen and Peg,
Thank you for making our family reunion go with out a hitch! We had over 70 members of the family coming from all different directions. Perfect location and having the train station close by was a bonus. We will see you again next year! One thing I heard most about our reunion was the feeling of being in a relaxed setting and not the feel of a hotel hall ( which is what we have done in the past) we will see you again with a larger family as the grandkids just keep adding up!
Sincerely,
Jim and Stella