"When dancing couples moved together there, the floor rose and fell like ocean waves."
-1930s Quote from Yankee Magazine describing the spring dance floor in the Ballroom at Exchange Hall.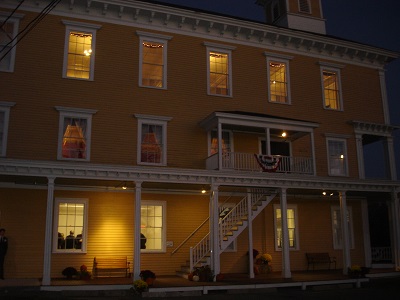 Average rating:
94 reviews
Dec 4, 2017
Acton
We recently held our son's Bar Mitzvah in this beautiful historical space and had a fantastic and unique experience. The venue is spacious, clean, and the owners are extremely helpful and professional. Peggy made this a smooth experience offering a floor plan for space planning, assisting coordination of vendors, and just answering all my questions in a timely manner. By all means use the beautiful white lanterns they can put up for ceiling decor, those were magical! This space would also be great for a wedding venue or any party you wish to hold!
Nov 7, 2017
Ayer Ma
My husband and I had our wedding at Exchange Hall 10/28/17 and absolutely loved every minute of the night. Peggy and Glen were so welcoming and extremely helpful every step of the way. They helped with everything from dealing with venders to setting up for the ceremony and reception. The venue is a gorgeous historic building from the 1860s. I loved my wedding and couldn't imagine having it anywhere but Exchange Hall.
Nov 3, 2017
I recently held my son's Bar Mitzvah reception at Exchange Hall and it was FABULOUS!When I started my search for a venue I was looking for a place that was sophisticated and had character, that provided flexibility with regard to catering, and that wouldn't break the bank. Exchange Hall delivered across ALL fronts. We had approximately 110 guests (mostly kids) and the size of the venue was perfect. It was one of the few places that had multiple rooms included in the cost (the main banquet room and the smaller Victorian Room) - and that was a fantastic benefit. The music (DJ) was appropriately loud for a 13 yr old party - but ridiculously loud for some of the older guests - so the Victorian Room was a great reprieve.Peggy was unbelievably organized throughout the entire planning process - which kept me on task. She clearly has a passion for her property, and amazing attention to detail. She was super helpful in terms of suggesting vendors, making recommendations for layout and design, and "show flow". She didn't miss a beat, and I didn't need to worry about any detail slipping through the cracks. She contacted me with task reminders in the weeks leading up to the event which I totally appreciated.Peggy was on top of outreach to all of my chosen vendors to coordinate all details. On the day of the event, Peggy and Glen were both onsite to greet vendors and guests, help with set-up, and to ensure everyone was good to go. I had complete peace of mind that nothing was left to chance and that all details were covered.I continue to get feedback from my guests at how wonderful their experience was and how much they enjoyed the venue. The greatest compliment came from my 12 yr. old when he said "I'm definitely having MY bar mitzvah here next year"! It doesn't get much better than that.
Jun 1, 2017
Los Angeles, CA
I recently held an event at Exchange Hall--a memorial service for a family member who passed. My family and I were so happy with our choice of Exchange Hall for this event; it was a lovely day sharing memories in a beautiful old space. Working on a very short timeline with Peggy, we were able to make informed decisions and get help with many things that we might have otherwise missed. I'm struck by the calm demeanor and graciousness of Peggy, Glen, and their staff. It was a very difficult time and yet we all felt very well looked after.
May 14, 2017
Thank you so much for helping us to put on a wonderful event last weekend. Our Bar Mitzvah was beautiful and meaningful, and we heard so many compliments about the venue. We so appreciate all of your advice (and patience) in helping us pull off such a very special day. I imagine we'll be getting in touch over the next year to book a date for Sarah's Bat Mitzvah in 2019!
May 9, 2017
Exchange Hall was the perfect place for our recent birthday celebration! The space is beautiful and the owners were incredibly organized and helpful.
May 2, 2017
Recently, we had our bat mitzvah party at Exchange Hall. The venue is so very beautiful and perfectly restored; and you can tell is a labor of love for Peggy and Glenn. Peggy was *immeasurably* helpful (as I am not a planner, was stressed & was a little late to the table.) The vendors she suggested fr the caterer (Sarah - what a *gem*)/bar/liquor suppliers/ice cream bar were wonderful. I'd re-book in a heart beat. Cannot go wrong!!!
Mar 28, 2017
Acton
We had our daughter's Bat Mitzvah party at Exchange Hall, and it was FABULOUS! We used the downstairs room for the adults, while the kids had a DJ and big space for dancing upstairs (we came together for a candle lighting ceremony and dessert later in the evening). We love the history of exchange hall. It's so beautiful, and great for dancing. Peggy is an unofficial party planner. She's very organized, and followed up with us about all the details as we prepared for the big day. Thank you for the memories.
Dec 14, 2016
Portsmouth, NH
My now husband and I had our reception at Exchange Hall on 11/12/16 and we couldn't be happier for choosing this venue! From the rich history of the building itself (which has been preserved beautifully) to very knowledgeable owners ( Peggy and Glenn) who made our wedding reception planning a breeze. We would highly recommend this venue for any event!

Peggy was very accommodating and extremely helpful during our planning and organized our vendors so we didn't have to. And if that's not enough both her and her husband Glenn even helped us decorate as well as clean up after the wedding was over! Who does that?!

We still hear praises from our weddings guests about how gorgeous Exchange Hall is and how much they enjoyed the atmosphere. Look no further, Exchange Hall is not only gorgeous but is run by very talented owners! Bravo!
Nov 15, 2016
Acton, Ma.
We held a memorial gathering for my mother at Exchange Hall, and it was a the perfect place for it. Such a gracious, charming room. Peggy and Glen were very helpful with all of the details. I was worried about the parking situation, but there is plenty of parking for those who need to park close, and staff were there to facilitate the arrival of the guests. Everything went very smoothly. I highly recommend Exchange Hall.