"When dancing couples moved together there, the floor rose and fell like ocean waves."
-1930s Quote from Yankee Magazine describing the spring dance floor in the Ballroom at Exchange Hall.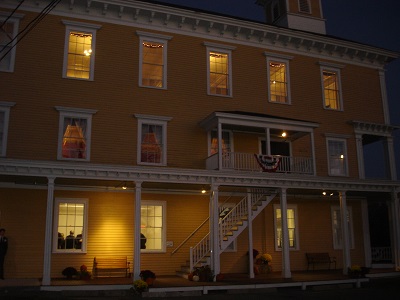 Average rating:
104 reviews
Mar 26, 2019
Westford
I just wanted to say a huge thank you for everything you did to help make our son's Bar Mitzvah so special. It's quite a task coordinating all of the various vendors and services, and it was all done seamlessly. The room looked amazing, personal, and so very special. We had so many compliments on the building, the room, and the uniqueness of the space. I am just beaming by how perfect everything went yesterday. This was definitely his party, he loved all of it.
Mar 10, 2019
Arlington
We had a wonderful experience planning and hosting our daughter's bat mitzvah party at Exchange Hall. The space was wonderful (it really needs very minimal decorations to be lovely), Peggy and Glenn were so easy to work with and accommodating - plus Peggy acts as a wonderful and knowledgeable party planner. She made it easy and I never had to worry that I was forgetting something. We were thrilled will all the vendor recommendations as well. Highly highly recommend!
Nov 15, 2018
Boston
Thanks Peggy - we had a blast! Great to work with your well-oiled machine there - made the process straight-forward and clear on our end.Have a great Fall and hope to see you again soon!Alex Papali, Clean Water Action, October 2018 fundraiser
Nov 15, 2018
Sudbury
We had such a wonderful experience having our daughter's bat mitzvah at Exchange Hall. Peggy was amazing - event planner extraordinaire! She had such great advice on everything, from set-up to vendors. She very kindly kept us on task leading up to the event, and helped out every step of the way. Because of all that, the event was very smooth, the space was so beautiful, and we couldn't have been happier with our venue choice.-Liz and Marc
Jun 28, 2018
http://songspkzz.com
Exchange Hall is such a beautiful building, looking forward to having my wedding there!
Jun 2, 2018
Acton
We rented the hall for our daughter's 18th birthday bash. What a wonderful place for a big event! Peggy and Glen were so helpful in all kinds of ways. It was a 'dress nice' affair and the kids really behaved well in the beautiful environment. Having the kitchen on the 2nd floor made it easy to keep some food out, too.I can't recommend Exchange Hall enough.
Mar 21, 2018
Acton
I wish I could give a 10 star rating! We recently hosted our daughter's Bat Mitvzah celebration at Exchange Hall. Peggy and Glen were absolutely wonderful to work with and I am confident that our event would not have been half as successful without their support. They clearly and totally adore what they do. Working with Peggy was like having an event planner by my side. She did not miss a beat and kept me calm and on track every step of the way. The building is an historic gem - our guests loved hearing all about it's history and the layout of the function space was perfect. We had some older family and itty bittys who were able to utilize the second floor space after cocktails to get away from the action for a bit and the third floor space is just totally beautiful with the large windows that permit tons of natural light into the space - no fancy uplighting necessary! Thank you Peggy and Glen for absolutely everything! I look forward to the opportunity to celebrate many more family milestones with you!
Mar 7, 2018
Acton
We recently celebrated my wife's birthday at Exchange Hall and could not have been happier with the entire experience! The space was perfect and the staff gracious and extremely helpful and flexible! The room was beautiful and easily met all of our needs - able to accommodate food, bar, seating and ample dancing space for our roughly 60 guests. Peggy was extremely helpful planning the event - making sure we had everything needed and in place well in advance of the event! We were able to access the space multiple times prior to the event (a block of time each before the event and the day of) to ensure everything was ready and no last minute adjustments were needed. The night itself could not have gone smoother - plenty of parking, perfect ambiance, great company, and plenty of dancing....exactly what my wife wanted! Many thanks to Peggy and her staff for an unforgettable evening!
Feb 3, 2018
Acton
This was the second Bar Mitzvah that we held at Exchange Hall. After my first son's event, it was a no brainer where to hold my second son's event. The building is beautiful, and certainly impresses all that come. Don't worry about any handicap needs. There are HC parking spaces and an elevator that can take your guests up to the party. The space itself was plenty big for our 70+ guests, DJ, full bar, photo booth, candy bar, and full buffet dinner. We held a cocktail hour in the Victorian room, while to 35 kids got started upstairs. Plenty of tables and chairs were provided by Exchange Hall, and we were able to get an additional block of time to come decorate the day before. In addition Peggy and Glen are easy to work with, and know when to give advice to those of us that just don't know what to do next. I would not hesitate to hold another function there or recommend to anyone that needs to rent space. Thank you for an unforgettable evening!
Jan 17, 2018
Acton
We held our son's bar mitzvah celebration at Exchange Hall, and we couldn't be happier with the choice. It was an afternoon party, and the space is just beautiful in the daytime -- the windows are enormous! We had so many guests who had never been inside the building before and they instantly fell in love with the history and charm just like we did. The upstairs space comfortably held our 100 guests with room for about 40 kids on the dance floor and a large photo booth in the corner. The Victorian Room was a great space for people who wanted a little peace and quiet to escape the crazy kids' party.Peggy was wonderful with the planning process, helping us find the perfect table arrangement to maximize the size of the dance floor. She was fantastic with every detail, emailing helpful suggestions at every turn and indulging my periodic requests (like hanging photos of our bar mitzvah boy on the walls). After the party, when I thought one of my boxes might have been accidentally discarded, she even joined me at the dumpster, in the freezing cold, to look for it. (The box was in my garage all along... So sorry, Peggy!)There really is no other space like Exchange Hall, and Peggy and Glenn are the ideal hostess and host.